About Us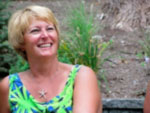 Hi,
I'm Lou Tufford and I started Key West Steps in 2011 as a result of my love for Key West and the pleasure I have always gotten simply from walking through the beautiful, fascinating, quirky and historic streets of Old Town.
Over the years, I've been lucky enough to visit my island paradise over 30 times. What started as a 10-day vacation to celebrate a birthday, became bi-annual visits of 3 weeks each, and now even more frequent stays of many months each year. We're well on our way to becoming year-round residents. That will be the next adventure.
I got started helping people find their way in Key West over 10 years ago when some friends asked for advice on what to do for their first visit. Since then, I've happily helped dozens of people find their way around town. There have been so many suggestions that I could write a book, become a Key West tour guide, or concierge!
Key West Steps is all that rolled into one. Key West Steps is here to help you find your way around the island, sorting through the seemingly endless things to do.
I've been inspired by the work of Sharon Wells, whose Walking and Biking Guide to Historic Key West helped me really get off the beaten path and explore, by Joy Williams, who wrote a wonderful book, The Florida Keys, and my favorite Key West blogger, "Conchscooter," whose daily posts in his Key West Diary share the little slices of island life that make it such a special place.
As a long-time, long-term visitor, I have lots of inside info. I also have some wonderful, generous local friends who are here to help you get the real scoop when you Step Inside.
And since I'm not quite a local myself, I still see the island the same way you do, so I know what you need to find the Key West that's best for you.
I hope you enjoy your Key West Steps!
Contact Us