Brady's Take
Where do you like to go?
I love
Louie's Backyard
.
Where do you recommend people go?
I always tell everyone to go to Louie's.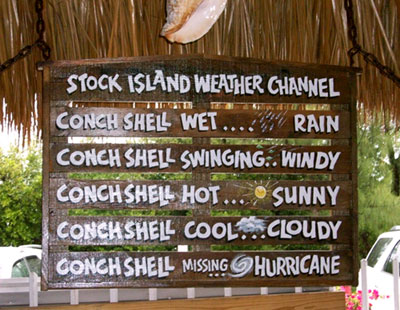 Stock Island Weather Channel at the Hogfish Bar and Grill
I also think people should take a ride over to the
Hogfish Bar and Grill
on Stock Island. If they don't have a car, they can always get a cab. It's just right off the island, so people could ride their bike out there too.
Right next door is Fishbusterz, where you can pick up fresh fish and seafood to cook. It's amazing.
When people come to town to visit you, where do you like to take them?
Always
Dante's
. Always Dante's first. Everyone loves Dante's. You can sit in the sun by the pool, swim if you want, and the food is so good.
The
Half Shell Raw Bar
is also great. There's a great Happy Hour at the Half Shell too; good drink prices and a special happy hour menu.
For dinner, I love to go to
Antonia's
. It's one of my favorite restaurants.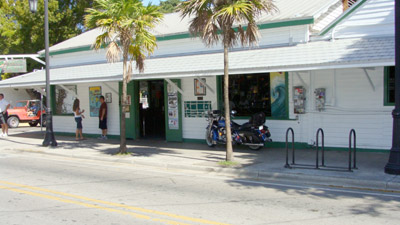 The Green Parrot Bar
What do you recommend for people visiting who want to check out the locals' scene?
They need to go to the 5:30 Sound Check at the
Green Parrot
on Fridays and Sundays. That's what all the locals do. They bring in excellent music there.
They also need to check out Pete and Wayne at
Sloppy Joe's
. Their show starts at 5:30 most nights. Very talented guys with a big local following.