Return To Step Stories Listing
Walking on Whitehead Part 1: Greene to Petronia Streets
November 14, 2011
Lou Tufford
The cannon marking the entrance to the
Mel Fisher Maritime Heritage Society and Museum
will get your attention as you start your walk on Whitehead.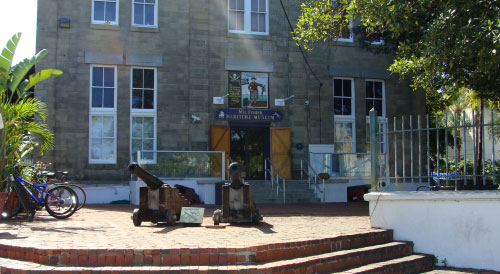 Mel Fisher Maritime Museum
On the other corner, the
Audubon House and Tropical Gardens
at the corner of Greene and Whitehead, mark the start of this 7 block (~1000 step) walk.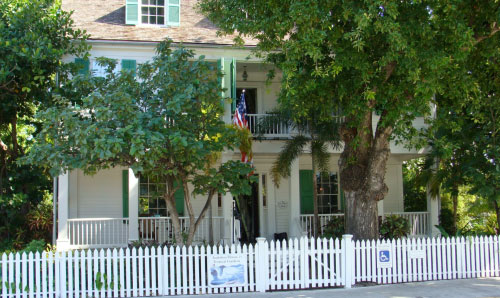 Audubon House and Gallery
The gallery has fine art for purchase and also simply for gazing.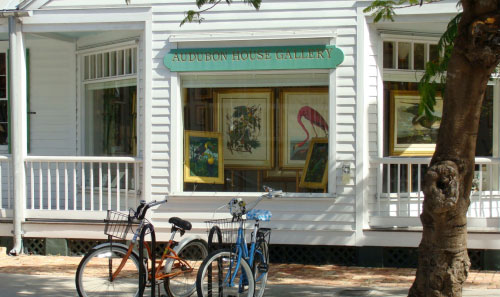 Audubon House and Gallery
And, just a few steps further, you'll see a different sort of art, painted on the fence of a private home.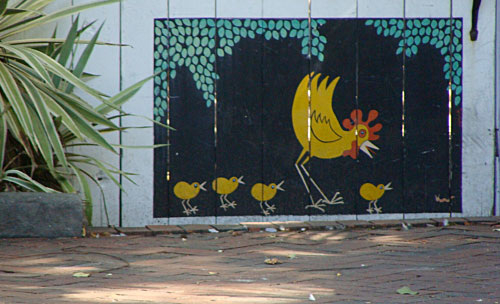 Painting on the fence of a private home
The walls and gates of Truman Annex line the west side of Whitehead.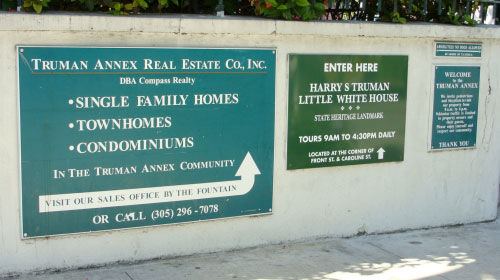 Wall of the Truman Annex
You can catch a glimpse of some of the beautiful homes here. This beautiful entryway is but one example.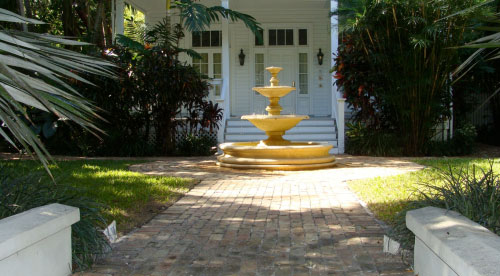 A courtyard of a Key West home
The Banyan Resort is just across the street,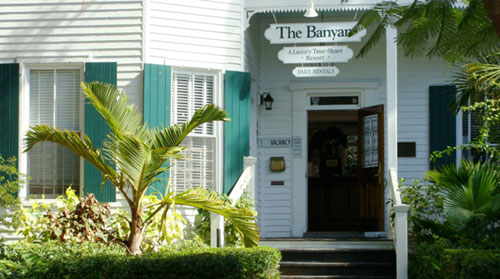 The Banyan Resort
named for the majestic banyan trees that populate the property.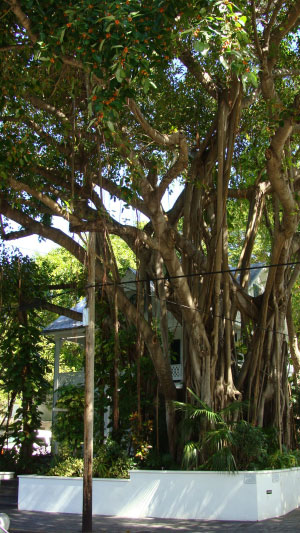 Banyan trees
At the corner of Whitehead and Caroline, you'll find the "Birthplace of Pan American World Airways";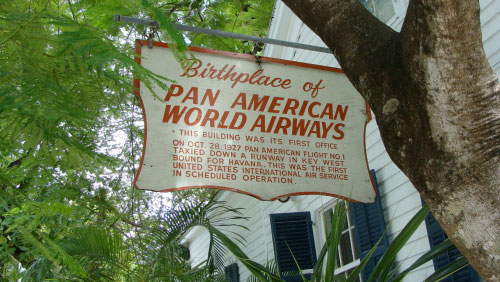 The birthplace of Pan American World Airways
which is also home to Kelly's Caribbean Bar/Grill and Brewery, owned by actress Kelly McGillis.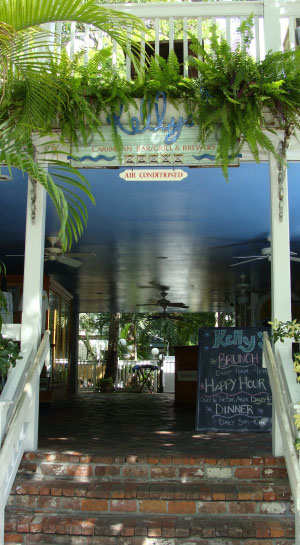 Kelly's Caribbean Bar/Grill and Brewery
I'm not much of a beer fan, so this isn't one of my favorites, but it is worth stopping in to see the bar, made from an airplane wing.
They have a very popular happy hour here and the courtyard out back is also very pretty.
If you need some stamps or want to mail a package, you'll find the Key West Post Office on the block between Eaton and Fleming.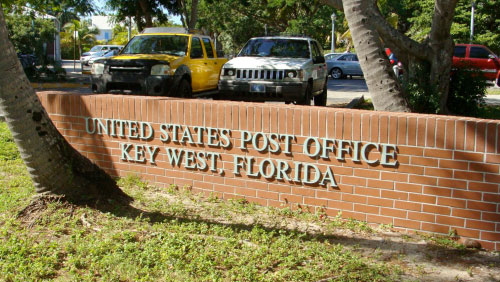 Key West Post Office
There are always interesting people waiting in line at the post office, which is a good thing, since it is usually a slow process. Outside, you will see some of our favorite Key West creatures.
A Key West chicken
The corner of Whitehead and Fleming is a well-known destination and the subject of many visitors' vacation photos.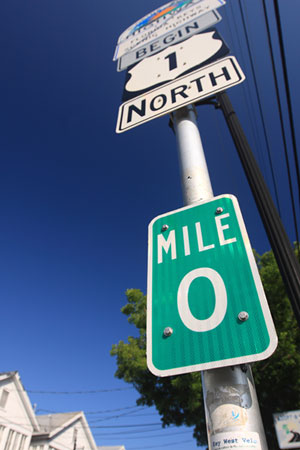 Mile marker 0 on US 1
You can choose an ending or a beginning, depending upon your frame of mind I suppose.
This is the same corner is where you'll find the famous Kapok Tree.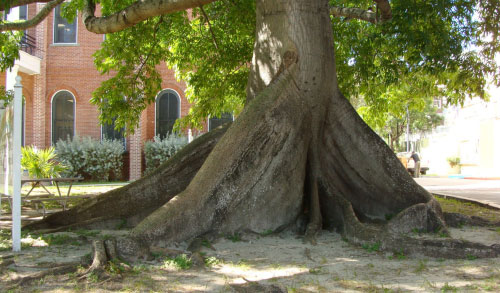 Key West's famous Kapok Tree
The tree is on the grounds of somewhat less scenic government buildings.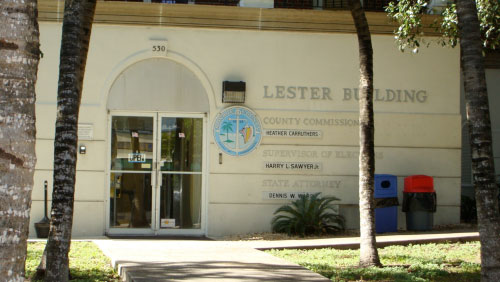 The Lester Building
At this point, you're at the corner of Whitehead and Southard, where you'll find a famous Key West destination of a different sort, The
Green Parrot
Bar.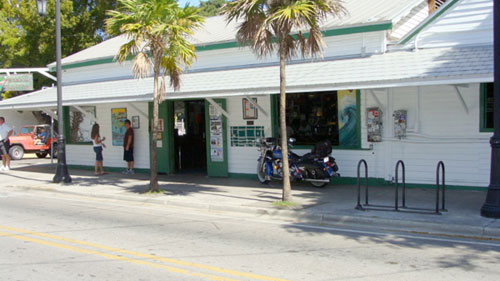 The Green Parrot Bar
On this afternoon, all is quiet. On weekend nights, this sidewalk gets jam-packed with locals and visitors alike who come to hear some of the best music you'll find in Key West.
Key West is nothing if not a study in contrasts. On one side of the street, you'll see a beautifully kept cottage.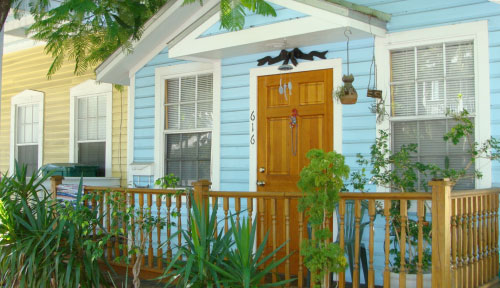 A beutiful Key West cottage
On the other side, there's one that's not so well kept.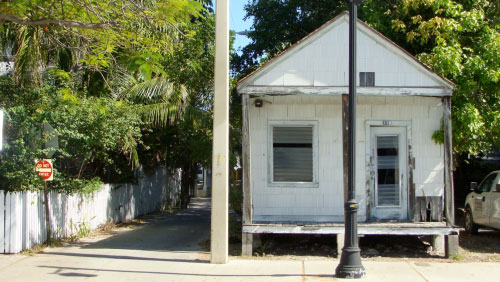 A run down Key West cottage
By now, you've reached the corner of Whitehead and Petronia, where you'll find the kitschy Bahama Village Market. There are a few vendors selling souvenirs here.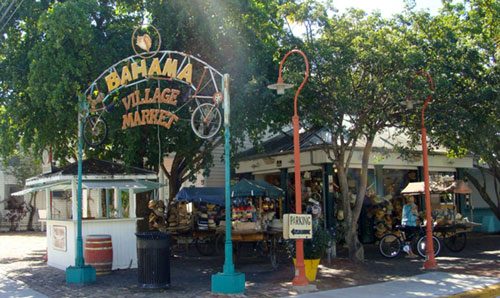 The Bahama Village Market
Lately, there's been talk of a restaurant going in to the building next door. At one point, the
Aqua Nightclub
was thinking of moving here as well. For now, this gorgeous Victorian stands vacant.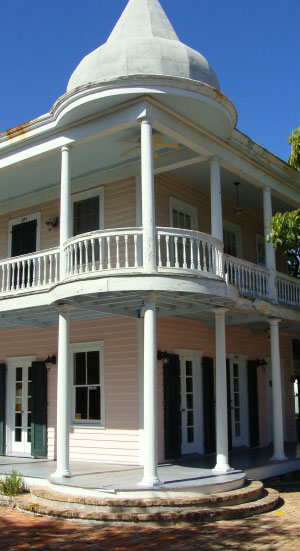 A vacant Victorian
Time for a pause. Wouldn't it be fun to stop here for a cool beverage?